This content will be shown before all post
Zucchini is starting to show up in my CSA each week and although it's one of my favorite vegetables I wanted to use it in a sweet recipe.  As you may know, I've been trying to implement a low histamine diet (in addition to my usual low carb paleo diet).  So what's the hardest part of a low histamine diet?  Not being able to eat chocolate!  It's been so hard for me to give up chocolate.  So I ended up "testing" chocolate by making these Glazed Chocolate Zucchini Muffins to see if I react to chocolate.  The good news is that these muffins are so good!  The bad news is that I seem to react to chocolate and it aggravates my Rosacea and makes my eyes itchy.
*Sigh* So it's back to no chocolate for me, but you get to enjoy these muffins.  🙂
Click Here to Pin It!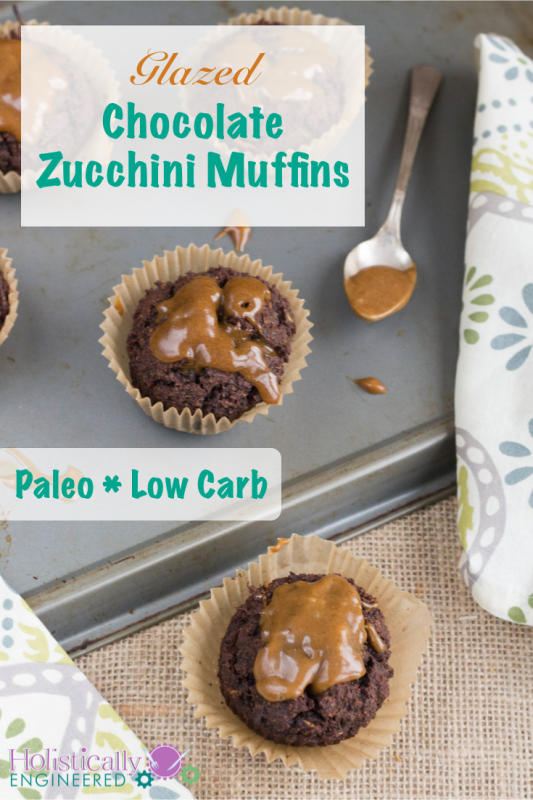 Glazed Chocolate Zucchini Muffins (Paleo and Low Carb)
Ingredients
Instructions
Preheat oven to 350 F.
Add the butter/coconut oil and sweetener to the bowl of a mixing bowl. Mix on medium speed until smooth.
Add the eggs and mix to combine.
Add the zucchini, vanilla, and apple cider vinegar and mix to incorporate.
In a separate medium bowl, combine the almond flour, cocoa powder, coconut flour, baking soda, cinnamon, and salt.
Add the dry ingredients to the wet ingredients and mix to incorporate.
Line a muffin tin with 10 liners. Using a jumbo scoop, scoop the mixture evenly into the liners.
Bake for 15-25 minutes or until a toothpick inserted into the muffins comes out clean.
Allow to cool before topping with the glaze.

For the glaze

Combine the sweetener (*it needs to be powdered--i.e. run granular sweetener through a coffee/spice grinder or high speed blender) with the coconut milk or cream and spoon the glaze over the top of cooled muffins.
https://holisticallyengineered.com/2014/07/paleo-chocolate-zucchini-muffins.html
Click +1 Below:
This content will be shown after all post