This content will be shown before all post
You all know I've been obsessed with ice cream this summer.  It's been such a great relief from the heat and it's easy to make your own ice cream.  Well, one day I felt like making cookies so when we were having a "cold" front I decided it was time to turn on the oven and make some chocolate cookies.  I knew they would pair perfectly with homemade vanilla ice cream for a delicious summer treat!
The good news is that these can be made with your favorite homemade ice cream.  I ended up putting the ice cream in a baking dish, freezing it, and cutting out circles with cookie cutters so they fit the cookies perfectly, but it works just fine if you scoop out the ice cream and push the cookies together.
Click Here to Pin This Recipe!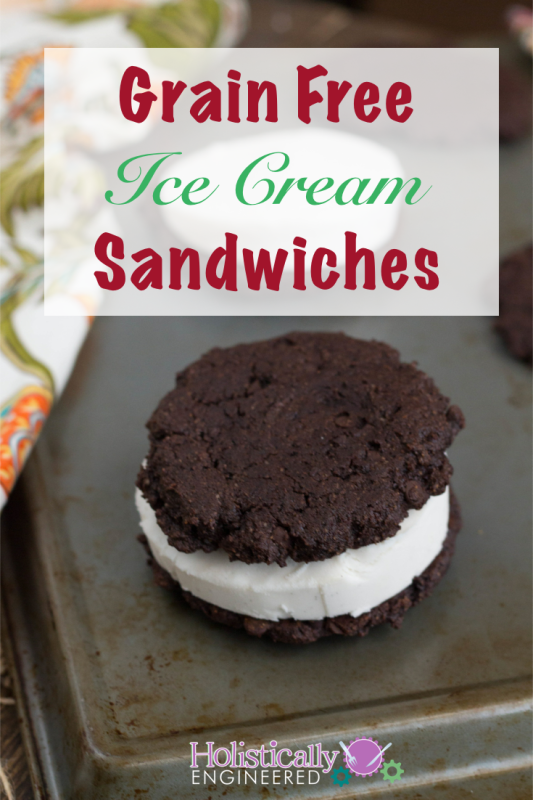 Grain Free Ice Cream Sandwiches (Paleo and Low Carb)
Ingredients
Instructions
Preheat oven to 350 F
Combine the almond flour, cocoa powder, coconut flour, coconut sugar, and baking soda in a large bowl.
Add the eggs, melted butter/ghee, and the vanilla.
Stir to combine. Add the chocolate chips and stir to incorporate.
Using a medium scoop, scoop out the cookies onto a parchment paper lined baking sheet and press down on the cookies to flatten (Makes about 10 cookies).
Bake for 9-12 minutes or until cooked.
Allow to cool before assembling

For the Ice Cream Sandwiches

Place 1 scoop of ice cream onto 1 cookie and then sandwich it together with another cookie.
https://holisticallyengineered.com/2014/07/paleo-ice-cream-sandwiches.html
Click +1 Below:
This content will be shown after all post