This content will be shown before all post
When I made lime curd for the Raspberry and Lime Parfaits I knew it would make a great popsicle.  Popsicles come in handy during these warm summer months!  Since the curd are already had the lime flavor and I had just gotten my hands on some Spearmint Essential Oil, mojito instantly came to mind!  Also, I love mixing fruit and coconut cream to make a creamy dairy free popsicle (but heavy cream would work too).  I added the rum mostly because it keeps the popsicle from freezing completely solid.  It's totally up to you if you want to add it or not.
Click Here to Pin This Recipe!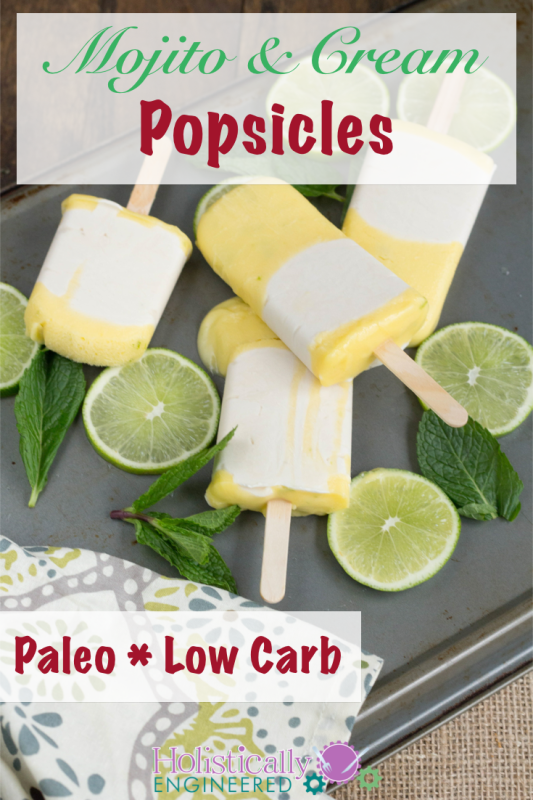 Mojito & Cream Popsicles (Paleo and Low Carb)
Ingredients
Mint Lime Layer

1 batch of Lime Curd (recipe here)
Young Living Spearmint Essential Oil

Cream Layer

1 13.5 oz full fat coconut milk
1/2 tsp pure vanilla extract
2 Tbsp of powdered coconut sugar for Paleo (or Confectioner's Swerve for low carb)
(Optional) 1 oz of light rum
Instructions
Combine the coconut milk, sweetener, vanilla extract, and rum in a medium bowl. Refrigerate will finishing up the Lime Curd.
Dip a toothpick into the Spearmint Essential Oil and then swirl the toothpick into the Lime Curd. Taste and add more Spearmint, if desired.
Spoon the mint lime mixture into Popsicle molds 1/2 full.
Pour the coconut milk mixture over the mint lime mixture mixture until the molds are mostly full.
Top the coconut milk mixture with the remaining mint lime mixture.
Freeze for about 6 hours or until set.
To unmold run the sides of the molds under running hot water for about 10 seconds or until the popsicle loosens and slides out
Notes
https://holisticallyengineered.com/2014/07/paleo-mojito-cream-popsicles.html
Click +1 Below:
This content will be shown after all post