This content will be shown before all post
The other week my CSA came with a deliciously ripe Watermelon.  I don't usually eat very much fruit, except for the occasional berry, but the watermelon was perfectly ripe and was just begging to be used.  The good thing about in-season fruit is that you don't have to add any sweetener to it…it's already sweet enough.  Nature's dessert!  I hope you enjoy the seasonal watermelon and the last bits of summer. 🙂
Have you seen this nifty way to cut a watermelon?  Check out the fast way to cut a watermelon.  I wasn't as fast as he was, but the method does work pretty well.
Click Here to Pin This Post!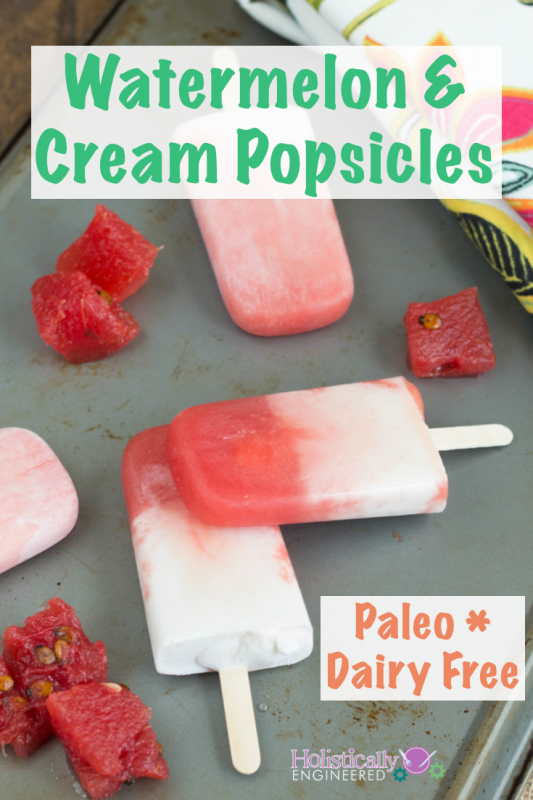 Watermelon & Cream Popsicles (Paleo and Dairy Free)
Ingredients
1 1/2 cups of watermelon pieces
13 oz of coconut milk
1 Tbsp honey (or Confectioner's Swerve for lower sugar)
1 tsp pure vanilla extract
Instructions
Purée the watermelon in a blender until smooth.
Strain through a mesh strainer to remove the seeds
Fill the popsicle molds halfway full with the watermelon
Combine the coconut milk, sweetener, and vanilla.
Pour the coconut mixture over the watermelon mixture.
Freeze for 40 minutes and then insert popsicle sticks into the popsicle molds.
Freeze for another 4-6 hours or until set.
https://holisticallyengineered.com/2014/08/paleo-watermelon-cream-popsicles.html
Click +1 Below:
This content will be shown after all post