This content will be shown before all post
I'm so ready for cooler weather and flavors like pumpkin, cinnamon, and hot chocolate.  There's just no way for me to enjoy hot chocolate right now.  The weather is hot and humid here in S.C. and there's no sign of cooler weather for many months.  I'm sure I'll still be wearing shorts and a t-shirt at Thanksgiving and Christmas.  It's definitely been known to happen.  With all the summer heat, I've been looking for ways to keep cool.  I even did the ALS ice bucket challenge so I could get a little relief from the heat (don't worry I donated also).  I think this Frozen Hot Chocolate is a really nice way to enjoy the flavors of hot chocolate without any of the heat.  Nice and refreshing on a hot day!
Click Here to Pin This Post!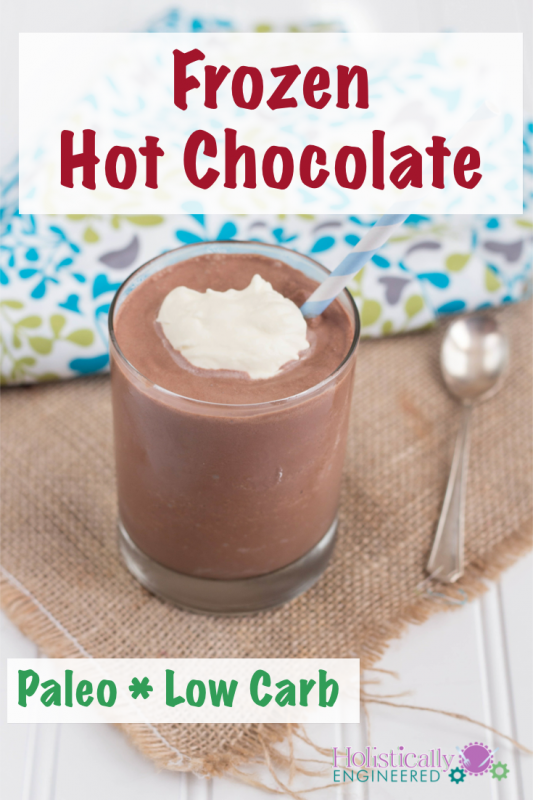 Frozen Hot Chocolate (Paleo and Low Carb)
Ingredients
1 cup coconut milk (or heavy cream)
1 oz chocolate, melted (Dairy free chocolate for Paleo or stevia sweetened for low carb)
2 Tbsp cocoa powder
3/4 cup chocolate ice cream (I used this homemade recipe for Frozen Chocolate Custard)
1 cup of ice
Pinch of cinnamon
Optional: 1 drop of Young Living Peppermint Essential Oil (Get essential oils here)
Instructions
In a blender, blend the coconut milk (or cream), melted chocolate, and cocoa powder until combine.
Add the ice cream, ice, and cinnamon and blend until smooth.
Add additional sweetener of choice and the YL peppermint essential oil, if desired.
Pour into 2 glasses and top with whipped coconut cream or heavy cream.
https://holisticallyengineered.com/2014/08/paleo-frozen-hot-chocolate.html
Click +1 Below:
This content will be shown after all post