This content will be shown before all post
When it's blueberry season I like add some fresh blueberries to my breakfast.  I came across these Cream Cheese Pancakes from my friend Mellissa from I Breathe…I'm Hungry and I knew I could tweak the recipe a little bit to incorporate the blueberries and create a portable breakfast option.  I like to fill the wraps with things like breakfast sausage (I like the sweet and savory combo) or some lightly sweetened whipped cream.  There are all kinds of possibilities with these wraps.  Enjoy your breakfast!
Looking for more breakfast options?  Check out my ebook, Awaken:  30+  Egg Free and Grain Free Breakfasts.  It's great for when you are tired of eating or allergic to eggs and want something different for breakfast.
Click Here to Pin It!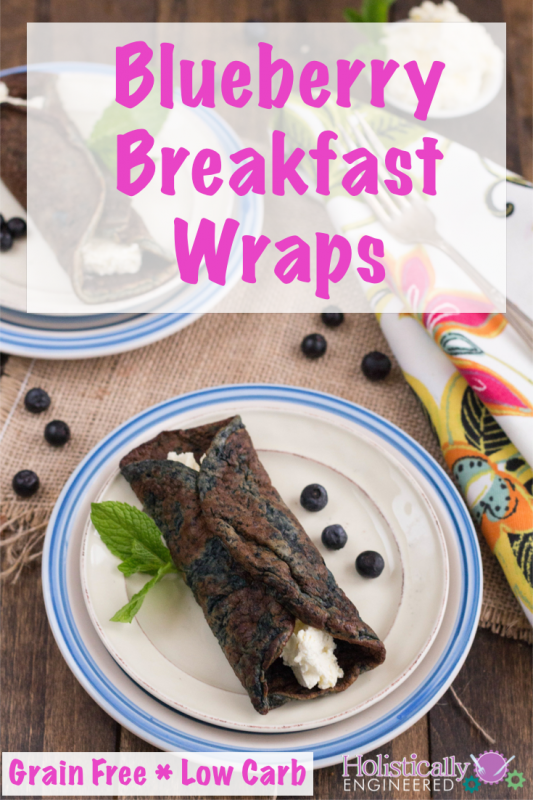 Blueberry Breakfast Wraps (Low carb and Grain Free)
Ingredients
4 oz. cream cheese
4 large eggs
2/3 cup blueberries
1/2 tsp vanilla
3 Tbsp coconut sugar (or Swerve for low carb)
Instructions
In a blender, blend the cream cheese, eggs, blueberries, vanilla, and sweetener.
Heat a small skillet over medium low heat.
Grease the pan with melted butter and pour 1/3 cup of the mixture into the pan (should fill the pan in a medium thin layer)
Cook for 2 minutes. Flip and cook for another 1 minute.
Fill with your favorite breakfast choice (breakfast sausage, whipped cream, etc.)
https://holisticallyengineered.com/2014/09/blueberry-breakfast-wraps.html
Click +1 Below:
This content will be shown after all post