This content will be shown before all post
This past weekend I made this Dijon Rosemary Chicken Thighs and I loved them so much.  The flavor was incredible!  Chicken has always been my favorite protein so I'm always looking for new ways to add some flavor.  The Dijon Rosemary sauce was kind of like a homemade mustard based barbecue sauce (which is popular here in South Carolina).  The tanginess of the Dijon mustard and vinegar pair perfectly with the touch of sweetness added in.  The rosemary adds an extra boost of seasoning to give you some finger lickin' good chicken.
Click Here to Pin It!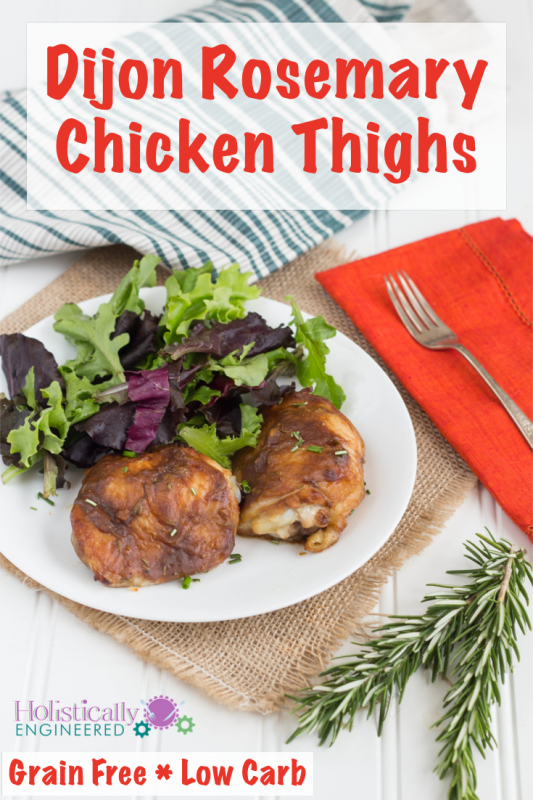 Dijon Rosemary Chicken Thighs (Paleo and Low Carb)
Ingredients
6 bone-in, skin on chicken thighs
1/4 cup Dijon mustard (check the ingredients...nothing weird!)
1 tsp apple cider vinegar
2 Tbsp coconut sugar (or Swerve for low carb)
2 tsp chopped rosemary, divided
1/2 tsp black pepper
Instructions
In a small bowl, combine the Dijon mustard, apple cider vinegar, sweetener, 1 tsp of rosemary, and black pepper.
Place the chicken thighs in a baking dish and spoon on some of the Dijon mixture over each chicken thigh (save excess).
Rub the Dijon mixture into all side of the chicken thighs and marinate for 45 minutes to 1 hour.
Preheat oven to 425 F.
Bake the chicken thighs (skin side up) for 15 minutes. Spoon on additional Dijon mixture and cooking for an additional 10 minutes or until cooked through.
https://holisticallyengineered.com/2014/09/dijon-rosemary-chicken-thighs.html
Click +1 Below:
This content will be shown after all post