This content will be shown before all post
After making the Blueberry Breakfast Wraps I wanted to come up with a savory version of the wrap.  It was nice to be able to add some variety to my breakfast and now it was time to do the same for lunch and/or dinner.  BLT's are my favorite way to enjoy bacon…especially when it's tomato season.  Sometimes it can be hard to find a bread option that really works.  Sure you can make a lettuce wrap, but every once in awhile it's nice to have something different.  I love that these wraps are hardy enough to be filled without breaking.  It's important to use a small sized skillet so that the batter fills the pan and is thick enough to make a hardy wrap.  These delicious wraps would also make a great breakfast option by filling the wraps with bacon and scrambled eggs.
Click Here to Pin This Post!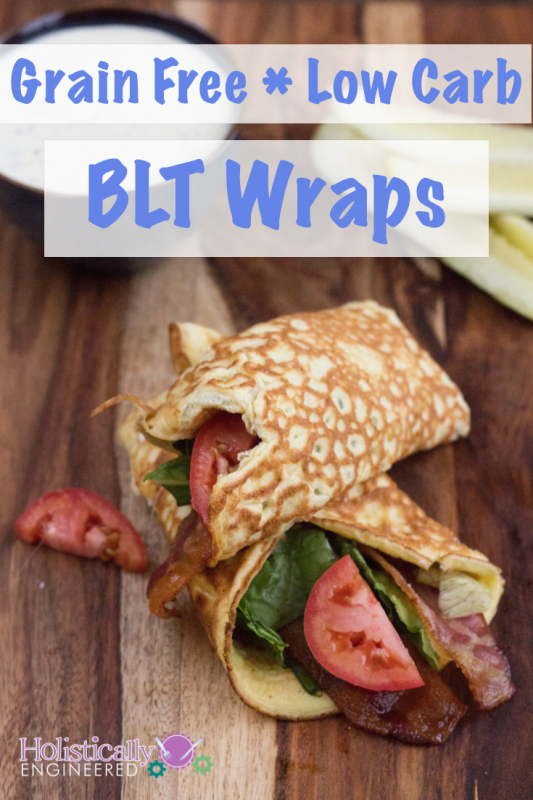 BLT Wraps (Grain Free and Low Carb)
Ingredients
4 oz. cream cheese
4 large eggs
1/2 tsp sea salt
1/2 tsp onion powder
1/2 tsp garlic powder
Homemade paleo mayo, cooked Bacon, Lettuce, and Tomato for filling
Instructions
In a blender, blend the cream cheese, eggs, sea salt, onion powder, and garlic powder.
Heat a small skillet over medium low heat.
Grease the pan with melted butter and pour 1/3 cup of the mixture into the pan (should fill the pan in a medium thin layer)
Cook for 2 minutes. Flip and cook for another 1 minute. Repeat for the remaining batter
Spread the homemade mayo on the wraps and fill with cooked bacon, lettuce, and tomato
https://holisticallyengineered.com/2014/09/low-carb-blt-wraps.html
Click +1 Below:
This content will be shown after all post