This content will be shown before all post
The other week I had some people over to visit and to enjoy some delicious food.  The next day I was sitting on my couch and all the sudden I could feel I had ants crawling on my feet.  Yikes!  I looked around and noticed that I had a bit of an ant infestation feeding on the hidden crumbs from the food I had served the day before.  Oh no!  After sniffing some Stress Away essential oil, I decided to get to work at cleaning up all the crumbs and then making a natural ant repellent.  It was so easy!  And I definitely needed it because the ants had ended up in some of the other rooms of the house.  I simply sprayed the mixture around all the base boards and on the carpets, if needed.  It worked great!  The ants really do not like peppermint or spearmint so it makes an effective ant repellent.
Do you know what ingredients are in your commercial ant repellent?  Does the scent of fumes and chemicals overwhelm you?  It was so refreshing to know that I could spray my homemade ant repellent in all the living areas of my house without have to smell toxic fumes.
Click Here to Pin It!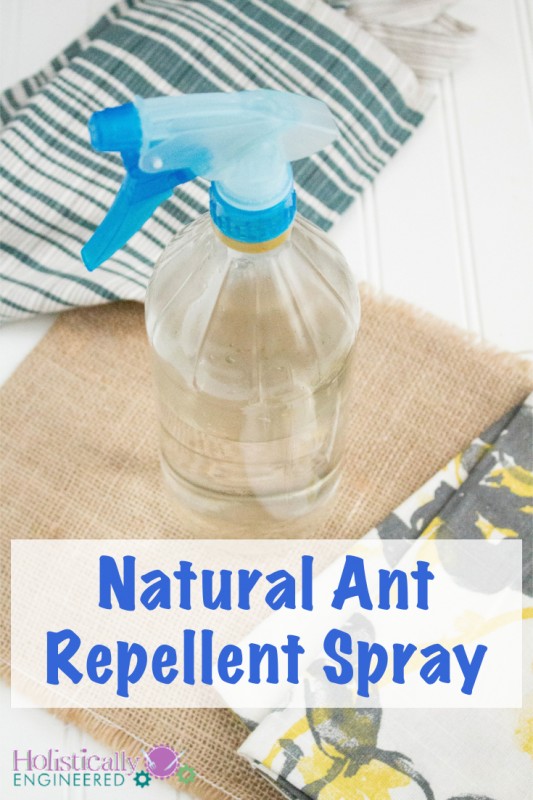 Ingredients
Pinch of salt
5 drops Peppermint essential oil (Get started with essential oils here)
5 drops Spearmint essential oil (Get started with essential oils here)
5 drops Lemon essential oil (Get started with essential oils here)
1 cup distilled water
Instructions
Add the salt to a glass spray bottle (I used an old vinegar bottle fitted with a spray top).
Add the Peppermint, Spearmint, and Lemon essential oil to the salt.
Top with the distilled water and shake to combine.
Spray along the baseboards and entrances where ants may enter the home.
Notes
Always spot test in areas to make sure no discoloration occurs on wood, carpet, etc. I didn't have any issues, but it's better to make sure since all surfaces are different.
https://holisticallyengineered.com/2014/09/natural-ant-repellent.html
Click +1 Below:
This content will be shown after all post