This content will be shown before all post
I'm always looking for easy dinner recipes and usually it consists of a piece of grilled or roasted meat with lots of veggies on the side.  It's easy, it's tasty, and it works, but every once in awhile I like to have something different.  The good news is that these Grain Free Chicken Tenders are still easy to make.  I throw everything in a food processor to make the "bread crumbs" and I coat the chicken using some coconut flour, eggs, and finish it off with the "bread crumbs."  I love the taste of the macadamia nuts and it added some healthy fats to the otherwise low fat skinless, boneless skin.  Also, the macadamia nuts adds a little bit of crunch to the chicken tenders and you can always adjust the seasoning using your favorites spices.  It was such a great way to jazz up dinner!
Click Here to Pin It!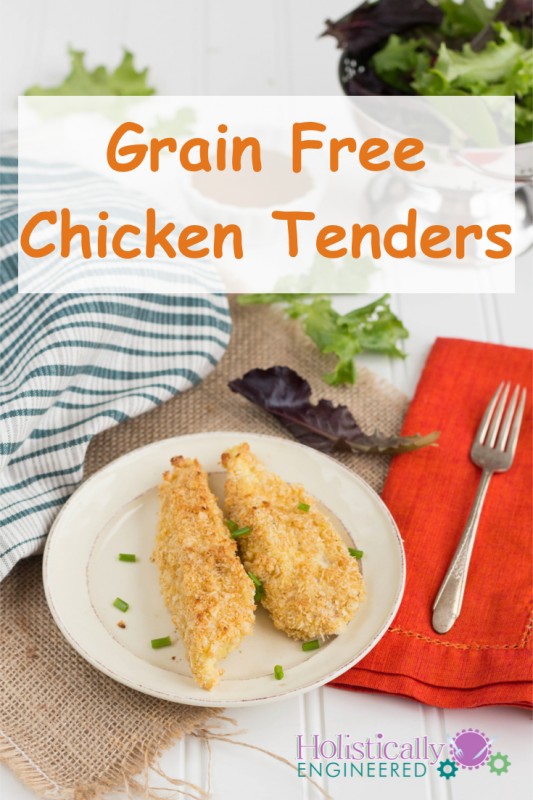 Grain Free Chicken Tenders (Paleo and Low Carb)
Ingredients
2 lbs. boneless, skinless chicken breast, cut into tenders
1 oz. macadamia nuts (about 3/4 cup)
1/2 cup unsweetened shredded coconut (Get shredded coconut here)
3/4 tsp real salt (my macadamia nuts were unsalted--Get Real Salt here)
1/2 tsp garlic powder
1/2 tsp onion powder
1/2 tsp paprika
1/2 tsp black pepper
Pinch of cayenne pepper
2 eggs
1/4 cup coconut flour (Get coconut flour here)
Instructions
Preheat the oven to 375 F.
In a small food processor, add the macadamia nuts and pulse until coarsely ground.
Add the shredded coconut, salt, garlic powder, onion powder, paprika, black pepper, and cayenne.
Pulse until combine and spread the mixture onto a plate.
In a medium bowl, beat the eggs until scrambled.
On another plate, add the coconut flour and season with salt, pepper, and garlic power (to taste)
Coat the chicken tenders in the coconut flour mixture and shake off any excess.
Dip the coated chicken tenders into the egg mixture and then coat the chicken in the macadamia nut mixture.
Place the chicken tenders on a baking sheet and bake for 10-12 minutes or until golden brown and cooked through.
https://holisticallyengineered.com/2014/09/paleo-chicken-tender-low-carb.html
Click +1 Below:
This content will be shown after all post