This content will be shown before all post
Hazelnuts have been gaining popularity over the last few years, but it's one nut that I honestly never really used much. I guess I was always a little intimidated by hazelnuts.  When I was in Europe last month, on a work trip, hazelnuts were all over the place and I fell in love with the taste.  Once I got back to the states I wanted to try my hand at baking with hazelnuts. The hazelnut flour provided a different twist on the usual almond flour cookies I normally make.  I was easily able to find hazelnut flour at my local health food store, but I also picked up some actual hazelnuts so I could try out some different recipes and make my own flour in the food processor.
Click Here to Pin It!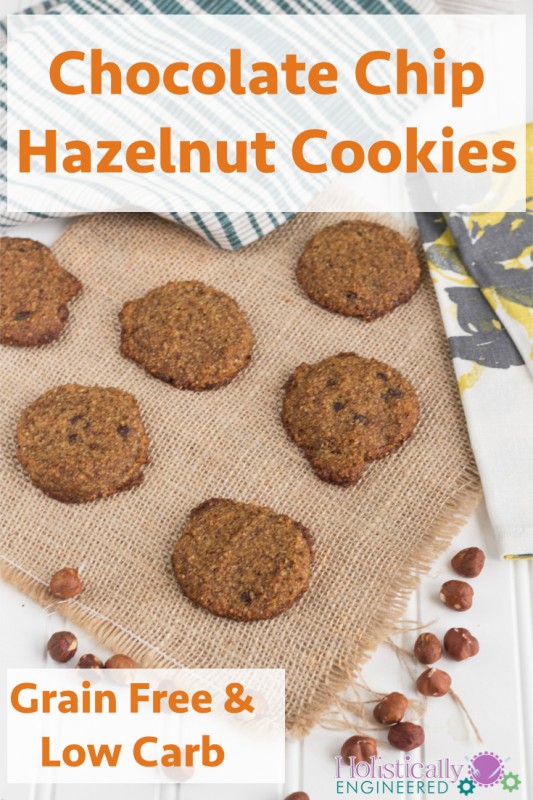 Chocolate Chip Hazelnut Cookies (Paleo and Low Carb)
Ingredients
6 Tbsp grassfed butter, softened or ghee
1/2 cup coconut sugar for Paleo or Swerve for low carb
1 large egg
1 tsp pure vanilla extract
1/4 tsp baking soda
Pinch of sea salt
1 1/2 cups hazelnut flour (or place hazelnuts in a food processor and process until finely ground)
1/2 cup chocolate chips (soy free/dairy free for Paleo or stevia sweetened for low carb)
Instructions
Preheat oven to 350 F.
In a mixing bowl, add the butter and sweetener. Mix on medium speed until thoroughly combined and creamy.
Add the egg and vanilla extract and mix to combine.
In a medium mixing bowl, combine the hazelnut flour, baking soda, and sea salt.
Add the hazelnut flour mixture to the wet ingredients and mix to combine.
Fold in the chocolate chips to incorporate.
Using a small cookie scoop, scoop out the mixture onto a cookie sheet (or two) lined with parchment paper or a silicon mat.
Bake for 8-9 minutes or until golden brown. Allow to cool slightly before transferring to a baking rack to cool completely.
https://holisticallyengineered.com/2014/10/paleo-chocolate-hazelnut-cookies.html
Click +1 Below:
This content will be shown after all post