This content will be shown before all post
I'm trying to be prepared and get a head start on planning.  So I wanted to put together some ideas for tasty paleo desserts for the holidays.  One of my favorite "food groups"  is chocolate. 🙂 Ok so it's not a food group, but a little dark chocolate isn't so bad around the holidays.  I love to pair chocolate and peppermint together.  It's such a great combination! I also wanted the cake to be nut and coconut free since those things are bit hard on my digestion right now.  The result was a delicious flourless chocolate cake.  If you're not a fan of Peppermint, Orange essential oil would also be a great combination with the chocolate.  I used essential oils in my recipe because I love having the low carb flavoring plus knowing the quality of the essential oil.  Essential Oils have many great uses, but if you haven't started on your essential oil journey yet peppermint extract would also work.  Just make sure you aren't using health food store essential oils….those are for fragrance only (not very high quality event though they may say "100% pure".
Click Here to Pin It!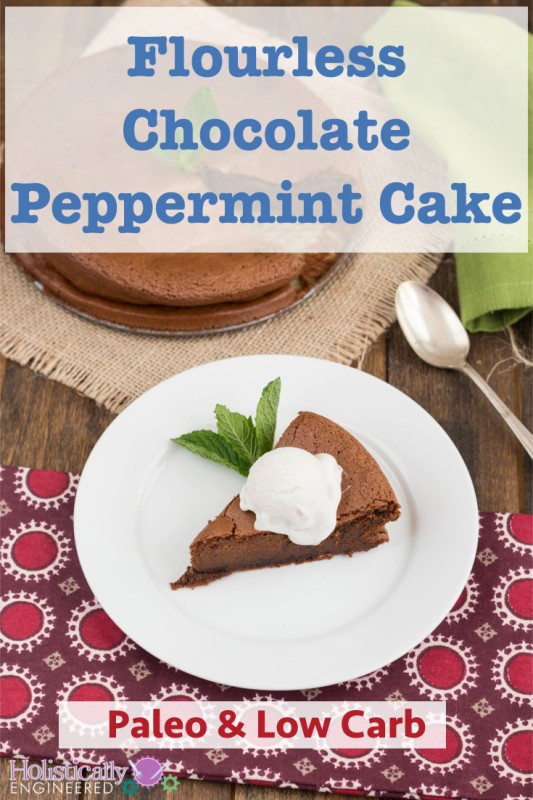 Flourless Chocolate Peppermint Cake (Paleo and Low Carb)
Ingredients
3 Tbsp butter or ghee, plus more for cake pan
6 oz preferred chocolate (Soy free/dairy free for paleo or stevia sweetened for low carb)
6 large eggs, separated
3/4 cup coconut sugar (paleo) or Swerve (low carb), divided
3-4 drops Young Living Peppermint Essential Oil (Get essential oils here)
1/2 tsp pure vanilla extract
1/8 tsp sea salt
Instructions
Preheat oven to 350 F and line a 9" spring form pan with parchment paper. Grease the parchment paper.
Place the butter and the chocolate in a double boiler over medium low heat.
Allow the chocolate and butter/ghee to melt and stir until smooth.
In a medium bowl, add the egg yolks and 1/2 cup coconut sugar (or Swerve) and whisk for 3 minutes.
Add the YL Peppermint essential oil and vanilla and whisk to incorporate.
Add half of the melted chocolate to the egg yolk mixture and whisk to combine. Add the remaining chocolate and whisk to combine.
In a mixing bowl, add the egg whites and beat on medium-high for about 1 minute.
Add the remaining coconut sugar (or Swerve) and beat until stiff peaks form.
Careful fold in the chocolate mixture, in three batches, until combine.
Pour the batter into the prepared spring form pan and bake for 40 minutes or until set.
Allow to cool completely before serving with homemade ice cream.
https://holisticallyengineered.com/2014/10/flourless-chocolate-cake-paleo.html
Click +1 Below:
This content will be shown after all post