This content will be shown before all post
Since I'm trying to ditch the toxic personal care and cleaning products and switch to more natural alternatives that means that I've gotten rid of my toxic air fresheners.  Did you know air fresheners are full of toxic chemicals?  Yikes! I want to limit my exposure to those chemicals as much as possible.  The good news is that it's really easy to make your own air freshener.  Typically, I diffuse essential oils in my Home Diffuser when I want to freshen the air. Essential oils like Purification, Thieves, Stress Away, Lavender, and Peppermint/Lemon are great in the diffuser.  I recently received holiday inspired essential oils (Cinnamon Bark, Nutmeg, and Orange are the freebie oils this month) and I was so excited to try them out.  Diffusing the holiday essential oils not only smell great, but they also provide additional support of our natural body systems.
As much as I love my diffuser sometimes it's nice to have a handy spray air freshener.  Like for times when I want a quick room spray, to have in rooms like the bathroom, or to bring to work with me. This non-toxic, DIY room spray is so easy to make and even customize the scent.
Click Here to Pin This Post!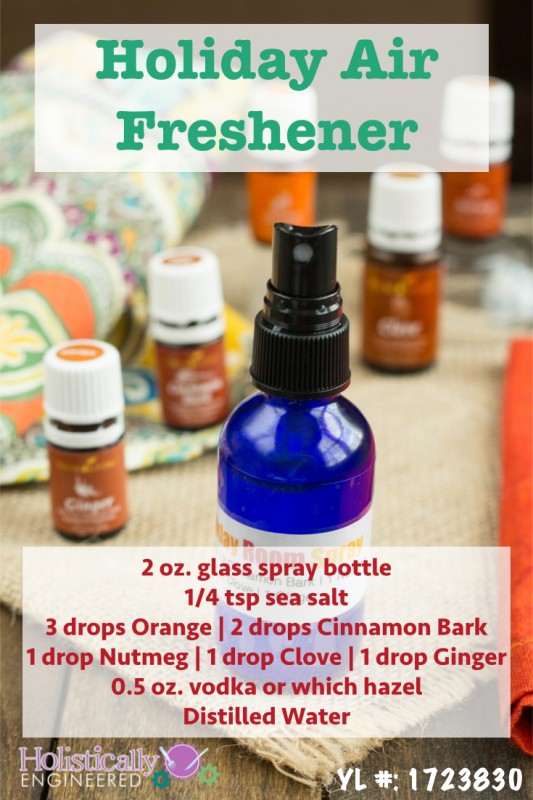 Ingredients
2 oz. glass spray bottle (colored glass)
0.5 oz. vodka or witch hazel
1/4 tsp sea salt
3 drops Young Living Orange Essential Oil
2 drops Young Living Cinnamon Bark Essential Oil
1 drop Young Living Nutmeg Essential Oil
1 drop Young Living Clove Essential Oil
1 drop Young Living Ginger Essential Oil
Distilled Water
Instructions
Place the salt at the bottom of the spray bottle and add the essential oils.
Add the witch hazel (or vodka).
Fill the rest of the bottle with distilled water.
Shake to thoroughly combine.
Spray as desired for the smells of the holidays. Shake the bottle before each use.
https://holisticallyengineered.com/2014/10/holiday-air-freshener.html
Click +1 Below:
This content will be shown after all post