This content will be shown before all post
My friend Caitlin Weeks, from Grass Fed Girl, has been working for years to bring her vision to life.  Countless hours of recipe testing, photography, editing, etc. has led to the wonderful book, Mediterranean Paleo Cooking.  Caitlin, a Nutrition Consultant, teamed up with her husband Nabil, who is a chef to create delicious, paleo versions of the foods Nabil grew up with from the Mediterranean region.  There are over 150 fresh coastal recipes that can easily fit into your everyday low carb and/or paleo life.  Diane Sanfilippo, author of Practical Paleo, joins the team with her incredible food photography which captures every bit of the fresh flavors of the Mediterrean.
One of the first recipes from Mediterranean Paleo Cooking that I made first was the Crème Caramel (recipe below).  It's an easy to make custard topped with a Paleo caramel sauce.  What I love most about the book is that it really does cater to everyone.  Following a low carb diet?  Most of the recipes offer a lower carb variation that will fit into your low carb lifestyle.  Are you egg free or nut free?  No problem! There are variations for egg free and nut free as well.  Following another protocol like, SCD, GAPS, or AIP, or low FODMAP?  You're covered too!  It was very help for me to be able to see the variations.  It's all clearly written next to each recipe which takes the guess work out of it.
My Favorite Recipes
Cinnamon Spice Pancakes
Spaghetti and Cumin-Spiced Meatballs
Easy Cinnamon and Ginger Granola
Cauliflower Couscous
Strawberry Tart
Mediterranean Chicken Liver Pâté (yes, I finally used the chicken liver that has been hanging out in my freezer.  It was delicious and nutrient dense!)
and Pizza!!!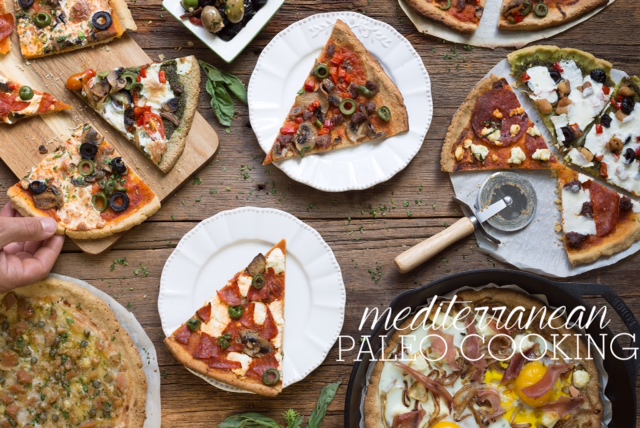 Pre-Order Your Copy Today
Mediterranean Paleo Cooking releases on Tuesday October 28th 2014, but you can pre-order your copy at a reduced price.  I can tell you, Caitlin, Nabil, and Diane put in a lot of work to make sure this book was a helpful resource in your real food lifestyle.  You won't be disappointed!
Pre-order your copy here before the sale price ends!
Click Here to Pin It!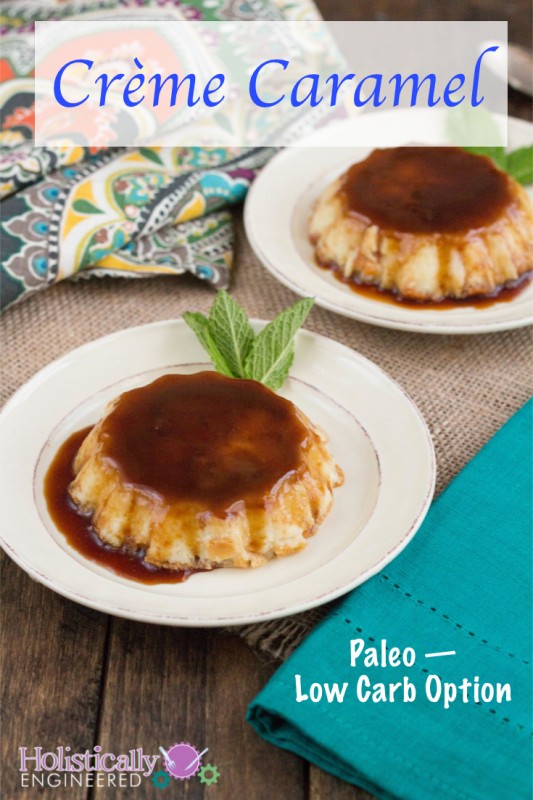 Ingredients
1 Tbsp coconut oil, for greasing the ramekins
3 cups full-fat, canned coconut milk
3 Tbsp honey or 1 tsp stevia extract powder
1 tsp vanilla extract (gluten-free)
5 large eggs
(Optional) 1 cup coconut sugar
Instructions
Preheat the oven to 325 F. Grease 6 (6-ounce) ramekins and set aside.
Whisk the coconut milk, honey (or stevia), vanilla, and eggs in a mixing bowl until well combined and set aside.
(Optional) In a saucepan, melt the coconut sugar over medium heat with 1 tsp of water until dissolved.
Fill each ramekin 1/4 with melted coconut sugar (if using). Divide the coconut milk mixture evenly between the ramekins.
Fill a baking dish with about an inch of water to make a water bath. Lower the ramekins into the water. (The water should come halfway up the side of the cups, if it doesn't, add a little more.) Bake for 35 to 40 minutes, until the custard is set.
Remove from the oven and let the custard chill in the refrigerator for 1 hour. Run a knife around the side of the ramekin between the custard and the dish, the turn out onto a plate to serve.
https://holisticallyengineered.com/2014/10/paleo-creme-caramel-dessert.html
Click +1 Below:
This content will be shown after all post