This content will be shown before all post
As you may know, I'm currently working on getting rid of SIBO.  Having SIBO effects digestion which in turn can effect nutrient absorption, weight loss/gain, etc.  Needless to say it's not fun and I'm really glad I found a Naturopath to help me get back on track.  I've had to adjust my diet because foods that have FODMAPs cause flare ups for me.  Through all of this, it kinda forces me to go back to the basics, keep it simple, but also add some creativity to my meals.  At times it feels like I can count on one hand the list of foods that don't cause flare ups for me, but it is getting better and I'm noticing a big difference in more than just my digestion, but also my skin and hair as well.  I'm not 100% yet, but I know I'm on the right track and I look forward to continued improvement.  It had been awhile since I had short ribs so I decided to make veggie sauce (using the veggies that are low FODMAP) to go with it.
Click Here to Pin It!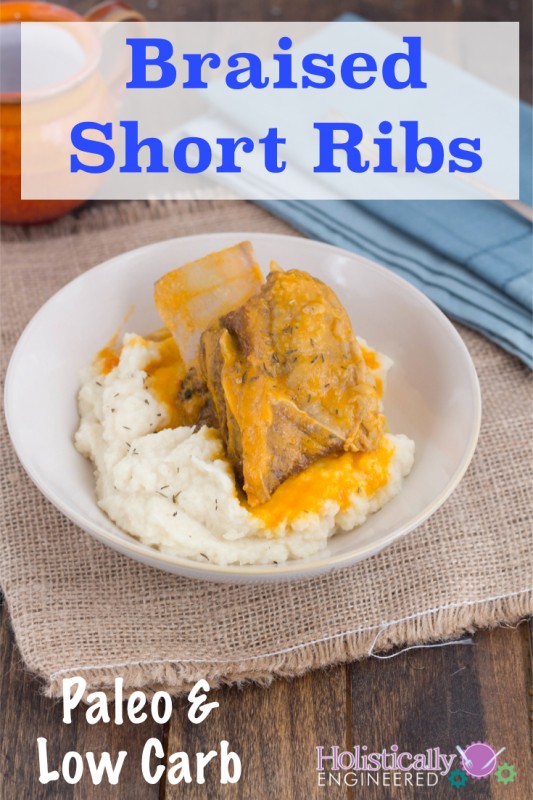 Braised Short Ribs (Paleo and Low Carb)
Ingredients
4 pounds beef short ribs (on bones)
1 tsp sea salt
3/4 tsp black pepper
2-4 Tbsp garlic infused olive oil or coconut oil
2 celery ribs, chopped
3 medium carrots, peeled and chopped
1/4 cup green onions, chopped (green part only)
4-5 springs of thyme
2 tomatoes, diced
2 tablespoons apple cider vinegar
4 cups beef bone broth or water
Instructions
Preheat the oven to 325 F.
In an oven proof dish or dutch oven, heat the 2 Tbsp of the oil over medium high heat.
Season the short ribs with salt and pepper and add the short ribs to the pan (in a single layer) and brown on all side. Work in batches, if needed.
Remove the short ribs from the pan and set aside.
Add additional oil if needed and add the carrots and celery to the pan. Cook until softened, about 5 minutes.
Add the greens onions, thyme, and tomatoes and cook for an additional minute.
Add the apple cider vinegar and broth/water and bring to a light boil.
Add the short ribs and accumulated juices back to the pan, cover, and place in the oven.
Cook for about 3 hours or until the short ribs are tender. Check occasionally to make sure there is enough liquid in the pan.
For the sauce: Remove the short ribs (and any bones) from the pan. Pour the contents of the pan into a blender and blend on high speed until smooth (work in batch if necessary and be careful with the hot liquid).
Place the sauce back in the pan and add the short ribs to coat in the sauce. Serve over mashed celery root.
https://holisticallyengineered.com/2014/10/paleo-braised-short-ribs.html
Click +1 Below:
This content will be shown after all post