This content will be shown before all post
Good ole celeriac, aka celery root.  It's the ugly duckling of the vegetable world.  Its weird looking exterior makes people pass right by it in the grocery store.  A lot of people have no clue how to prepare a celery root.  Luckily, a few years ago I decided to try celery root for the first time and I was so glad I did.  Lately, I've been on a journey to get rid of SIBO (Small Intestinal Bacterial Overgrowth).  While working with a Naturopath Doctor I been using herbs along with a SCD (Specific Carbohydrate Diet) + Low FODMAP diet to help get rid of SIBO and keep it away.  Usually my go to mash potato substitute is cauliflower.  Unfortunately cauliflower is a high FODMAP vegetable and usually causes me a lot of bloating.  Now I turn to mashed celery root as my go to mash potato substitute. It's both low carb and low FODMAP which is a great combo for me as I'm healing.
How to Prep a Celery Root
So how do you prepare a celery root?  I made this video to show exactly how I handle a celery root in preparation for making a mash.

Click Here to Pin It!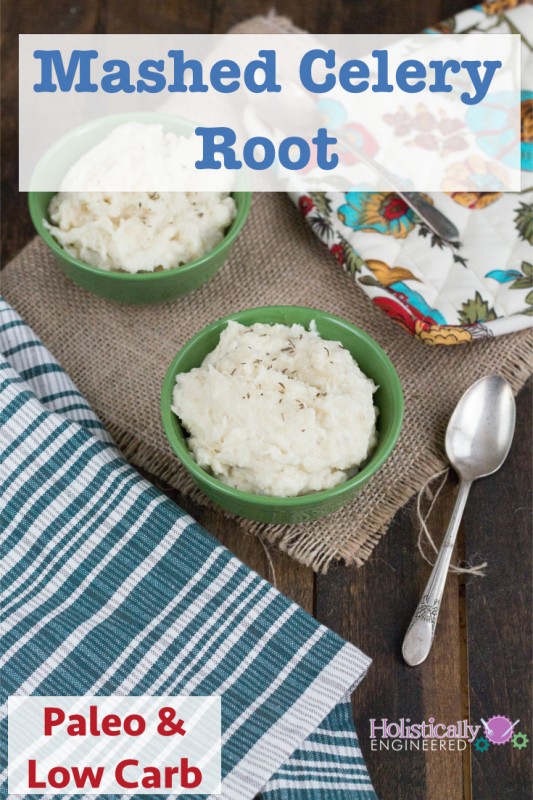 Mashed Celery Root (Paleo, Low Carb, Low FODMAP, SCD)
Ingredients
2 lbs. celery root
1/4 cup coconut oil, ghee, or butter
Sea salt and black pepper, to taste
Instructions
Bring a pot of water to a boil.
Peel and cut the celery root into 1" pieces.
Salt the water and then add the celery root pieces.
Allow the celery root to cook for about 10-15 minutes or until the celery root is fork tender.
Strain the water from the celery root.
Add the coconut oil/butter/ghee, salt, and black pepper and mash the celery root with an immersion blender until smooth.
Taste and adjust the seasonings as necessary. Serve as a side dish.
https://holisticallyengineered.com/2014/10/paleo-mashed-celery-root.html
Click +1 Below:
This content will be shown after all post