This content will be shown before all post
Last week we had a few days of cooler weather to usher in the Fall season.  To celebrate, I wanted to savor the flavors of Fall with some cranberry and orange.  I ended up making some Cranberry Orange Chocolate Chip Cookies.  For the month of October, one of the freebie essential oils is Orange (also Cinnamon Bark and Nutmeg) so I couldn't wait to try the Orange Essential Oil in a cookie recipe.  I love to use therapeutic grade essential oils as a low carb, all natural food flavoring.  The unsweetened dried cranberries, give the cookies just a touch of tartness which pairs nicely with the chocolate chips.
Click Here to Pin It!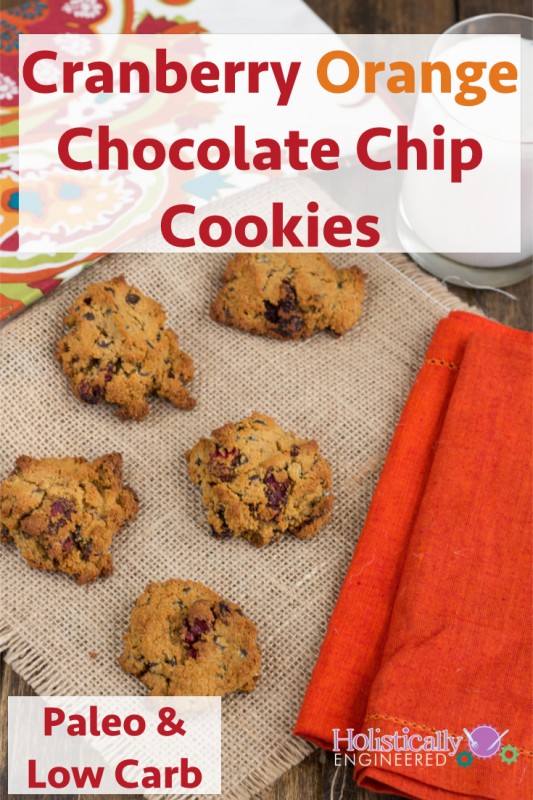 Cranberry Orange Chocolate Chip Cookies (Paleo and Low Carb)
Ingredients
Instructions
Preheat oven to 350 F.
In a mixing bowl, combine the coconut sugar/sweetener and butter/ghee/coconut oil on medium speed.
Add the eggs, vanilla, and Orange essential oil and mix until smooth.
In a separate bowl, combine the almond flour, coconut flour, salt, and baking soda.
Add the dry mixture to the wet mixture and mix to incorporate.
Fold in the chocolate chips and the cranberries.
Using a small cookie scoop, scoop onto a baking sheet lined with parchment paper (makes about 24 cookies).
Bake for 10-11 minutes or until golden brown. Allow to cool before serving.
https://holisticallyengineered.com/2014/10/paleo-cranberry-orange-cookies.html
Click +1 Below:
This content will be shown after all post