This content will be shown before all post
How's the weather in your area?  It's really starting to heat up here in South Carolina, so it's nice to have a cold treat to enjoy on those hot Spring (or what feels like Summer already) days.  You've probably heard of goji berries before…they were one of those superfood buzz words awhile back.  But it's true, goji berries (or Chinese Wolfberries) have some great benefits.  I like to use NingXia Red drink, which is made from goji/Chinese wolfberries, to make popsicles.  NingXia Red is naturally sweetened from the berries and stevia and has lots of flavor already built in.
NingXia Red is a powerful antioxidant drink that contains whole Ningxia wolfberry puree—a super blend of blueberry, aronia, cherry, pomegranate, and plum juices, natural stevia extract, grape seed extract, pure vanilla extract, and orange, yuzu, lemon, and tangerine essential oils. Its benefits include support from head to toe, via a whole body nutrient infusion. NingXia Wolfberries have been cherished for centuries for its health, energy, and longevity benefits. Whole Ningxia wolfberries and other nutrient-dense fruit juices make NingXia Red the perfect choice for optimizing wellness. I first tried NingXia Red when I got my essential oil starter kit (set started here).  The starter kit came with two packets of NingXia Red to sample.  Honestly, I tossed them to the side and had no idea what they were (I was mainly just interested in learning about essential oils themselves).  After learning more about the benefits, I decided to give them a try in the form of popsicles.  The first time I put the packets directly in the freezer and had easy popsicles, but now I like taking it a step further and adding the cream (or coconut cream) because it adds some healthy fats for satiety and also helps dilute the essential oils even further.  NingXia Red is also great served over ice as a drink with some club soda or water.
Click Here to Pin It!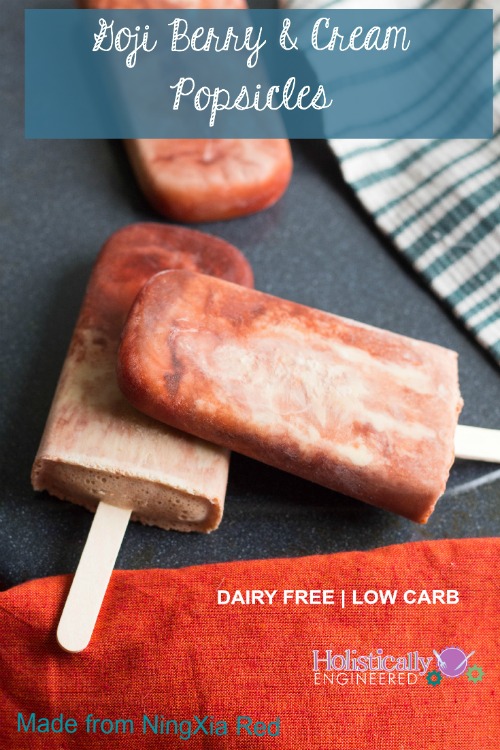 Goji Berry and Cream Popsicles (Low Carb and Dairy Free)
Ingredients
4 oz NingXia Red drink (get NingXia Red here)
1 cup heavy cream or coconut milk
2 Tbsp powdered coconut sugar* or equivalent liquid sweetener of choice (like stevia for low carb)
1/2 tsp pure vanilla extract
Instructions
In a medium bowl, whisk the heavy cream/coconut milk, coconut sugar, and vanilla extract until combine.
Pour the NingXia Red evenly (about half way) into the popsicle molds.
Top with the cream/milk mixture until the mold is full.
Freeze for 15 minutes and then insert a popsicle stick into the middle of each mold.
Allow to freeze completely.
To unmold, running warm water along the outside of the molds and gentle remove the popsicle from the mold.
Notes
*To powder the coconut sugar, run it through a food processor or blender until finely ground.
Makes 3 popsicles
https://holisticallyengineered.com/2015/05/goji-berry-cream-popsicles.html
This content will be shown after all post