This content will be shown before all post
Salted Caramel ice cream is one of my favorite flavors.  The combination of sweet and salty is just perfect.   This recipe is intended to be paleo and dairy free, but if you want to reduce your carbs I have a suggestion for a different caramel recipe and if you can tolerate dairy then heavy cream works well also.
During the summer I love to make my own ice cream.  It allows me to better control the ingredients and it's super easy to make. I end up using my ice cream maker a lot so it's not just a random appliance that just sits there and never gets used, I tend to do that with the majority of my appliances and I end up having to get them repaired over the years (find more info).  I keep the ice cream bowl in the freezer all the time so it's ready to go whenever I need it.
Interested in getting an ice cream maker?  Click here to see the ice cream maker I use use and love.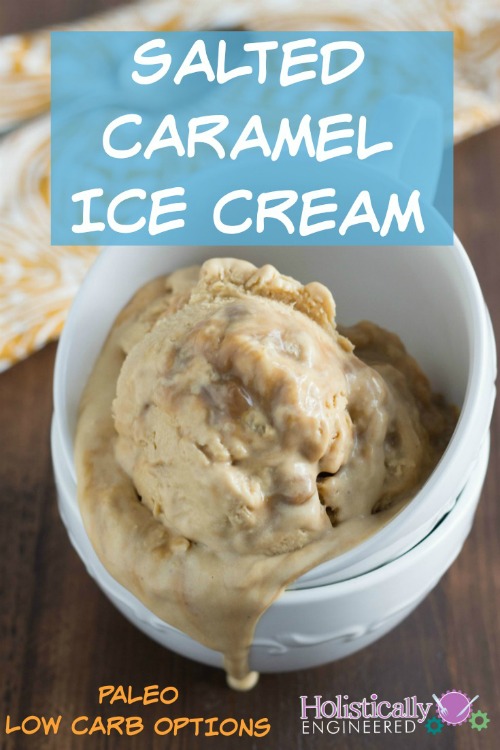 Salted Caramel Ice Cream (Paleo and Low Carb Options)
Ingredients
For the ice cream base:

1/2 cup unsweetened almond milk
1 3/4 cups unsweetened coconut milk, separated (or use heavy cream for low carb)
6 Tbsp coconut sugar (or Swerve sweetener for low carb [get Swerve here] or use your preferred sweetener)
4 egg yolks
1 tsp vanilla

For the caramel*:

1/4 cup water
1/2 cup coconut sugar (click here to get coconut sugar)
1 cup coconut milk (for paleo) or heavy cream
1/4 tsp real salt
1 tsp vanilla
*For Low carb use the caramel recipe found here
Instructions
For the salted caramel:

(For low carb use this caramel recipe instead--

click here

In a medium saucepan over medium-high heat, add the water and coconut sugar and bring to a boil.
Reduce heat to medium, add the coconut milk and salt. Stir continuously for about 15-20 minutes or until the mixture thickens and darkens in color (very frequent stirring keeps the coconut sugar from burning).
Remove from the heat and stir in the vanilla extract.
Allow to cool completely before adding to the ice cream.

For the ice cream base:

Mix the almond milk, 1 1/2 cups coconut milk (or heavy cream), and coconut sugar (or Swerve sweetener) in a medium saucepan over low heat and cook until heated through.
Place the egg yolks in a medium bowl and slowly add the warm cream mixture over the yolks a little at a time while whisking.
Add the mixture back into the saucepan over medium low heat, whisking frequently.
Cook for 6-10 minutes or until the mixture thickens and coats the back of a spoon.
Remove the mixture from the heat and add the vanilla.
Optional: Strain through a fine mesh strainer into a medium bowl.
Refrigerate the mixture until cooled completely (2 hours-overnight)
Once cooled mix in the remaining coconut cream/heavy cream (1/4 cup) and churn according to manufacturer's directions.
Once the ice cream has finished churning, pour into a freezer container.
Add 6 Tbsp of the salted caramel on top and swirl it into the ice cream with a knife.
Serve immediately for soft serve or place in the freezer to harden more.
Store leftovers in the freezer but it must be thawed slightly before serving again (20-30 minutes)
https://holisticallyengineered.com/2016/08/paleo-salted-caramel-ice-cream.html
This content will be shown after all post