In April I attended Paleo f(x) in Austin, TX.  It was a great opportunity to listen to leading experts, doctors, and scientists in the paleo and low carb communities. Plus I got to meet and spend time with some amazing blogger friends.  Austin is also a major foodie city and one of the things we got to enjoy was some Chocolate and Candied Orange Peel Gelato from Dolce Neve.  Dolce Neve uses milk from grass fed cows and produce from local farms to make their delicious gelato treats.  It was a nice treat to enjoy while we were in town.
Of course once I got home I wanted to recreate that special treat with a homemade version.  Making your own ice cream is a great way to control the ingredients that work best for you (i.e. dairy or non-dairy, sweetener, etc.).  I also like that the orange peel gives the flavor of orange with less carbs than the orange juice.  Honestly, I never even thought to make candied orange peels before I had the gelato in Austin.  Candying the orange peels softens them and makes a tasty addition to ice cream…just remember to peel as much of the white pith off as you can.  The pith makes the orange peel bitter and can make the final ice cream bitter too.
Click Here to Pin It!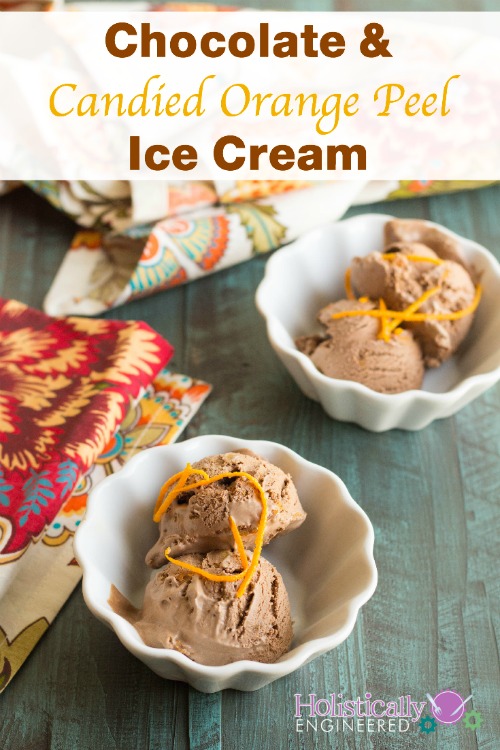 Chocolate and Candied Orange Peel Ice Cream
Ingredients
Candied Orange Peel

2 large navel oranges
1 cup coconut sugar (or Swerve for lower carb)
1 cup water

Chocolate Ice Cream

4 large pastured egg yolks
1/2 cup plus 2 tablespoons unsweetened organic cocoa powder
3/4 cup powdered coconut sugar--run regular coconut sugar through a food processor until powdered (or for lower carb use powdered Swerve)
2 13.5 oz cans full fat coconut milk or equivalent heavy cream
2 teaspoons pure vanilla extract
Instructions
Candied Orange Peel

Cut the top and bottom off the orange. Score the orange peel into quarters. Peel back each of the four pieces, trying to get the least amount of the pith (the white part--which is the most bitter. I ended up peeling off as much of the pith as I could once I peeled it back from the orange--I carefully used a small knife). Reserve the inside of the orange for another recipe. Repeat with the other orange. Cut each of the 8 orange peel pieces into 1/4" strips.
Place the orange peels in a saucepan and cover with water. Bring the water to a boil over medium heat. Drain the water and reserve the orange peels. Repeat the process 2 more times with fresh water each time.
In the empty saucepan over medium heat, add the coconut sugar and 1 cup of water. Bring to a boil. Reduce the heat to simmer and add the orange peels. Toss to coat in the syrup. Allow the peels to simmer for 12-15 minutes or until translucent and then remove from the heat. Allow to cool in the syrup for about an hour. Strain the peels from the syrup (reserve the syrup to add to a tasty drink or smoothie) and allow to cool completely.
Dice the orange peel strip into a small pieces and reserve for later.

For the Chocolate Ice Cream

Place the egg yolks a mixing bowl.
Pour the coconut milk (or heavy cream) into a sauce pan over medium-low heat.
Whisk in the cocoa powder and sweetener.
Heat the coconut milk in the sauce pan just until it starts to bubble.
Slowly add 1/4 cup of the hot coconut milk to the egg yolk mixture and continuously whisk to combine.
Add the remaining coconut milk, a little at a time, whisking to combine (don't add the hot coconut milk too quickly or you will end up with scrambled eggs).
Pour the mixture into the sauce pan and cook over low heat, stirring constantly.
Cook the mixture for 5-7 minutes or until thickened (it should coat the back of a spoon).
Once thickened, remove from the heat and add the vanilla extract.
Pour the mixture through a fine metal strainer over a bowl.
Allow the mixture to cool down and then cover with plastic wrap (I place it directly on the custard so that a skin doesn't form) and refrigerate for 2 hours or until cooled.
Add the mixture to the bowl of an ice cream maker and process according to the manufacturer's instructions.
Add the orange peel pieces to the ice cream and stir/process to mix throughout.
Serve immediately for soft serve or transfer to a freezer proof dish and continue to freeze before serving.
If freezing for an extended amount of time (like overnight), let sit out at room temperature for about 15-20 minutes or until scoopable.
http://holisticallyengineered.com/2015/06/chocolate-orange-ice-cream.html
The kitchen tool I used to make the Chocolate and Candied Orange Peel Ice Cream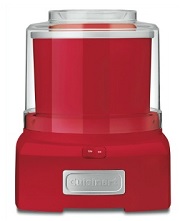 DISCLAIMER: Not intended to diagnose, treat, or cure any disease. Always consult a doctor or authorize medical professional before changing your diet, medications, etc. PAID ENDORSEMENT DISCLOSURE: In order for me to support my blogging activities, I may receive monetary compensation or other types of remuneration for my endorsement, recommendation, testimonial and/or link to any products or services from this blog. Some links on this site are affiliate links, including Amazon.com affiliate links. If you purchase a product through an affiliate link, your costs will be the same but Holistically Engineered will receive a small commission. This helps cover some of the costs for this site. I appreciate your support!