This content will be shown before all post
It's hard to believe that summer is winding down, but I'm so excited for cooler temperatures and football!!!  Ok, so football starts in a couple of weeks, but cooler temperatures are still many months away for me here in South Carolina.  I'm sure I'll still be wearing shorts and a t-shirt at Christmas time.  The good news is that I get to enjoy frozen treats like these Lemon Cheesecake Popsicles for a little while longer.  If you're dairy free you can make these using nut "cream cheese" and coconut milk.
Enjoy!
Click Here to Pin This Post!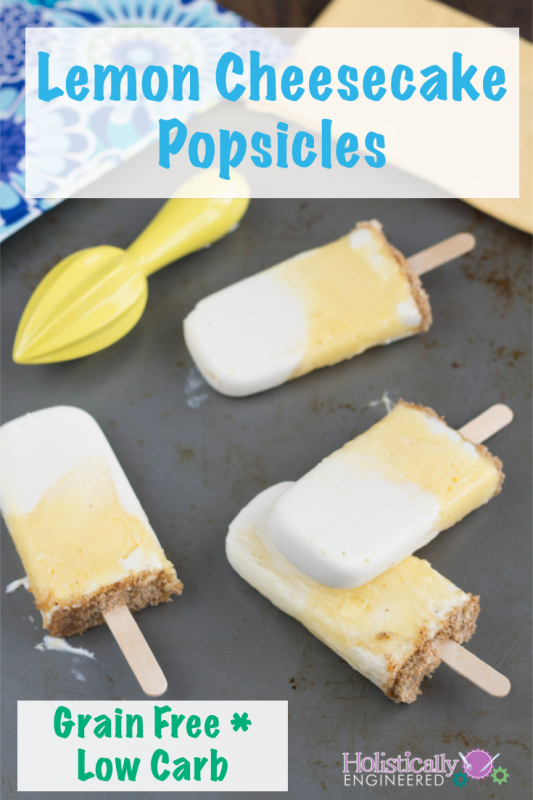 Lemon Cheesecake Popsicles
Ingredients
For the Cheesecake Layer

4 oz cream cheese (or nut "cream cheese"--get the recipe here)
1 cup of heavy cream (or coconut milk)
1/4 cup Confectioner's Swerve (or 2-3 Tbsp maple syrup)
Juice of 1/2 lemon
1 tsp vanilla extract

For the Lemon Layer

1/2 cup Lemon Curd (get the recipe here)

For the Crust Layer

3 Tbsp sliced almonds
1 Tbsp Swerve (or coconut sugar)
Instructions
For the Cheesecake Layer

Blend together the cream cheese, heavy cream, sweetener, lemon juice, and vanilla until smooth.

For the Crust Layer

Finely chop (or pulse in a mini food processor) the almonds and mix in the sweetener.

To fill the popsicles

Fill the popsicles molds halfway full with the Lemon Curd (I used four large molds)
Top with the Cheesecake Layer mixture
Sprinkle on the Crust Layer mixture and add the popsicle stick
Freeze for 4-6 hours or until set.
https://holisticallyengineered.com/2014/08/lemon-cheesecake-popsicles.html
Click +1 Below:
This content will be shown after all post