This content will be shown before all post
Living in South Carolina means lots of BBQ…it's a pretty big deal here.  What makes barbecue different in South Carolina is that the sauce is mustard based instead of ketchup based.  I love it so much better!  The problem is that most commercial Carolina barbecue sauces are usually filled with high fructose corn syrup, tons of sugar, and/or preservatives/non-real food ingredients.  I had some chicken wings in my meat share last month so I wanted to make them with a homemade (and easy to make) Carolina barbecue sauce.  I cut the wings into the smaller pieces (drumettes and wingettes) and whipped up the easy barbecue sauce.  It turned out great!  It gave the chicken wings so much flavor. Broiling the wings are my favorite way to make them. I don't have to mess with a pot of hot oil and they still end up nice and crispy. Not a fan of chicken wings?  The sauce is great over grilled chicken and pulled pork too.
Click Here to Pin It!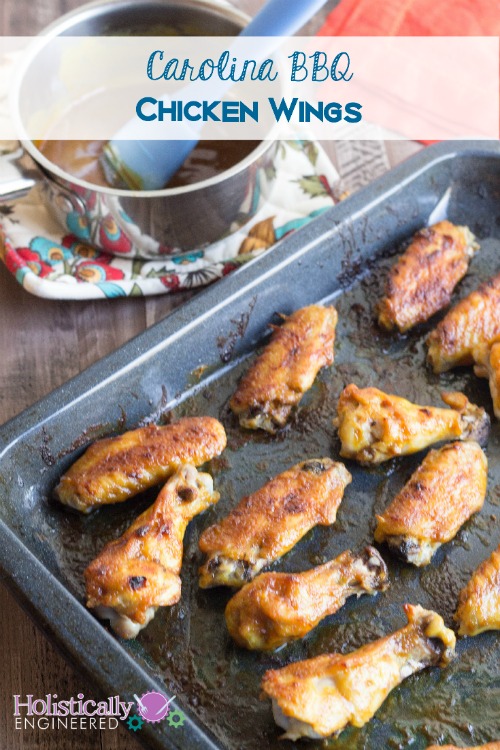 Carolina BBQ Chicken Wings (Paleo and Low Carb)
Ingredients
18-20 chicken wing pieces (drumettes and wingettes--I cut my wings into the small pieces)
3 Tbsp butter or ghee (lean how to make ghee here)
3 Tbsp organic yellow mustard
3 Tbsp coconut sugar or Swerve for low carb
Instructions
Turn on the oven broiler
Place the chicken wings skin side down on a baking sheet
Broil for 10 minutes.
While the chicken is broiling, in a small saucepan add the butter, mustard, and coconut sugar (or Swerve) and heat over medium low heat until combined and heated through.
Set the BBQ sauce mixture to the side while the chicken continues to cook.
Remove the chicken from the oven (after broiling for the initial 10 minutes) and flip the chicken over.
Broil for another 10 minutes
Brush the BBQ sauce mixture over the chicken (both sides) and broil for another 5 minutes or until golden brown and cooked through (keep an eye on it so it doesn't burn).
https://holisticallyengineered.com/2015/04/carolina-bbq-chicken-paleo.html
This content will be shown after all post